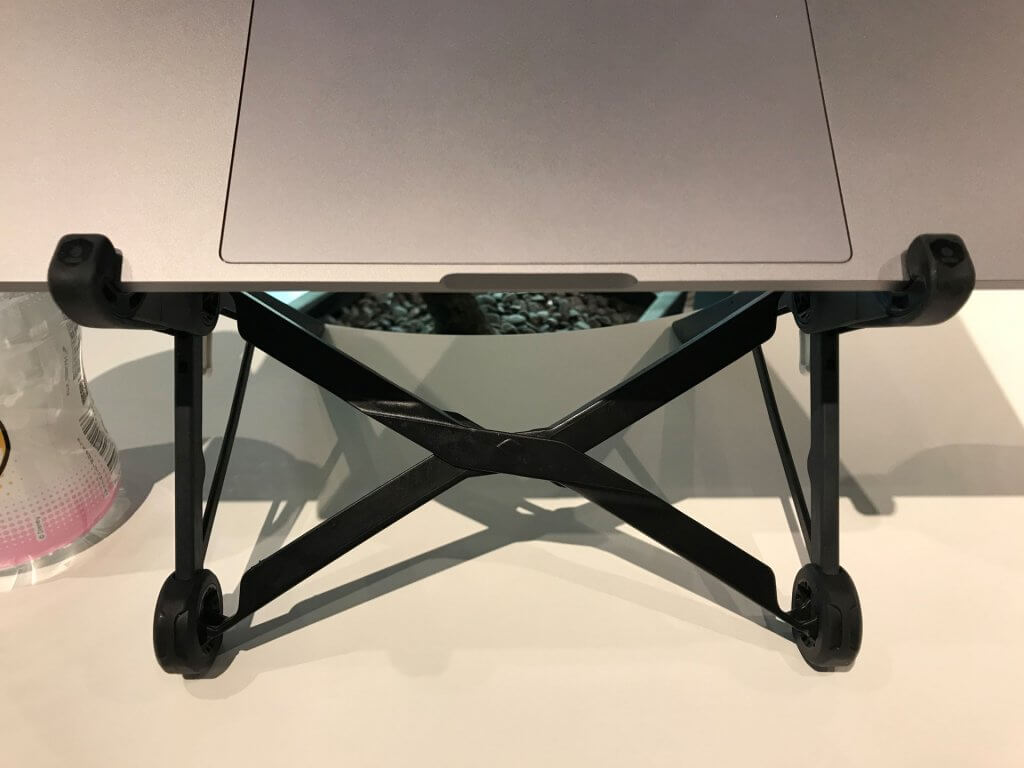 Besides "how are you so handsome", one of the questions I get asked most by strangers when I'm sitting in cafe's or coworking spaces, is about my laptop stand.
Indeed, often times I'm standing out like a sore (yet handsome) thumb, because while perched on its roost, my Macbook is literally head-and-shoulders-above the other laptops around.
The Premise
While the other people around are hunched forward in their seats like a super villain's henchperson, I'm sitting all the way back in my chair, in a comfortable position, with my body relaxed, and in an ergonomic position, looking straight into my laptop's monitor.


As they cry tears of tension headaches, complaining of neck and back pain, and an over-heating laptop, I am seated comfortably, loose and limber, looking professional, and my laptop has all the ventilation it needs (and indeed, more than the late Dr. Jobs, Esq. ever intended).
The Pretense
This isn't going to be a comparison of 50 different laptop stands, so you're not going to find any stands made of metal, or ones that take up more space than your laptop – except in comparison.
No, we're travelers, so every kilogram and square inch counts. The ideal laptop stand is both light and portable – meaning plastic and compact – yet sturdy and reliable.
The Predecessor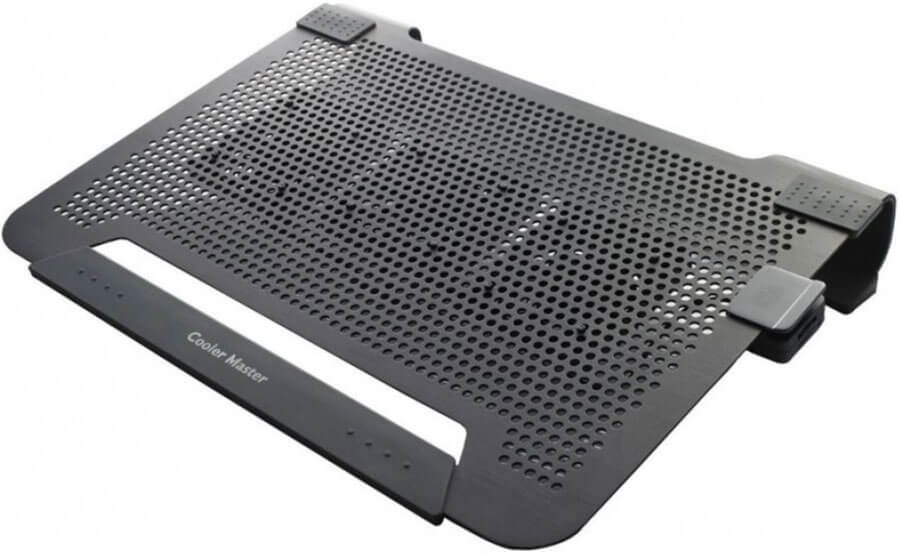 The first laptop stand I travelled with (pretty much the exact model pictured) was from Cooler Master, made of metal, and was bigger than my laptop. So big, in fact, that it took up most of my laptop bag, and so I had to carry my laptop by putting it in the hollow part of the stand. Not only did it do almost nothing for the viewing angle of the laptop (which is the main benefit of a good laptop stand – besides cooling), its fans scratched/dented the bottom of the laptop I had at the time. I learned my lesson – no more metal, bulky laptop stands for me.
The Perfect Solution – The Roost Laptop Stand
Nowadays, the perch on which my MacBook roosts, is fittingly called, The Roost.
Its sparse design is deceptively sturdy (apparently capable of holding over 50 lbs), and thanks to rubber pads in the feet, holster, and back support of the stand, it is both slip and tilt resistant.
Like What You See?
We send exclusive tips & resources, daily, by email, for free, on how to create the freedom to travel full-time, and optimize the quality of your travels.
Testing it as I write this, I got to a healthy ~45 degree tilt before my 15″ Touch Bar MacBook Pro began to slide off – and it's just as resistant to pushing/slipping as you'd expect rubber pads to be under a 4lb machine (much more so than the pads on the bottom of the computer itself).
It's Portable
Part of the reason for its design, is that despite taking up a significant portion of my 15″ MacBook Pro's foot print (therefore supporting it with ease), the Roost folds down to slightly less than the Macbook's total length (and less than 1/8 of its total width), meaning it will fit comfortably in any laptop bag that can hold your 15″ laptop.
For those of you who dabble in precision, its folded dimensions are 13″ (L) x 1.2″ (H) x 1.3″ (W).
Plus, at less than half a pound (~160 grams – don't you love these mixed measurement systems?), it's almost undetectable when you're carrying it around day-to-day, and it's nothing more than a rounding error in your luggage weight.
It's Positionable
Not all work environments are created equally. Often times, especially in cafe's and lower-rent coworking spaces, your chair (or your body, if you're a standing-desk kind of person) and your desk area are going to be fixed and unadjustable.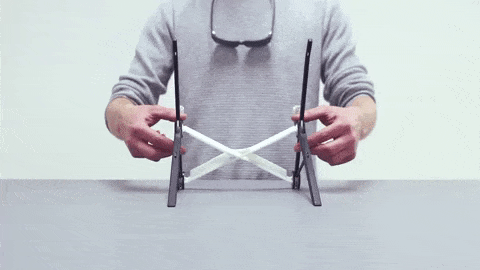 With 6 inches of adjustability (lifting your laptop between 6-12 inches total), squirming around those kind of awkward cafes and coworking space seating situations are a thing of the past.
It's Practical
Although it's not too aesthetically pleasing (to my eye), it makes up for that in uniqueness, and in function (portability). Sometimes, you have to make sacrifices in the gear you make when traveling, and the great weight savings and slim form factor make it perfect from a perspective of practicality.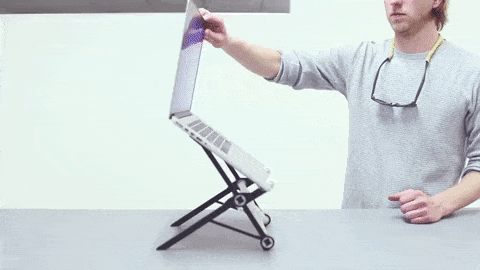 It's my clear choice for the best laptop stand to get, since from a quality perspective, it is best-in-class for its purpose of being a light-weight, reliable travel laptop stand – but I would be remiss if I didn't mention the one other name that may share the same sentence as the Roost…
The Pretender – The Nexstand K2
If the Roost has one major competitor, it's the copycat called Nexstand. At around 40% of the price (~$28 compared to The Roost's ~$75), and looking nearly identical, it seems like a bargain, but is it really?
This Amazon review of the Roost portrays an accurate comparison of the two, with detailed pictures, which I will sum up and contextualize here.
P.U.
In addition to describing my sentiments toward such a clear knockoff, P.U. in this case can also stand for "plastic underneath".
Without any rubber (or at least, without any really grippy rubber), the Nexstand is very easy to slide around, tip over, or get pushed/pulled off a table, for example if somebody trips over your charging cord.
Your computer is also resting on hard plastic, including the grips that hold it, so depending on the material, with enough time (and perhaps fairly quickly), it might get scratched.
Pronounced
Besides offering less protection, the Nexstand is also bigger.
Since it's bigger, it's also heavier, but still only half a pound. At ~230 grams, it's approximately 40% heavier than the Roost.
Perhaps the biggest potential inconvenience of the how much larger the Nexstand is, is its length. At over 14 inches long, you may have trouble fitting it snugly in bags designed for 13 inch laptops.
That means that unless your bag is designed for 15 inch laptops, the Nexstand may not fit in horizontally, but you may have to instead put it in a diagonal, which would limit what else you could put in there (both in terms of available space, and the potential weight of things that could otherwise crush the Nexstand).
Also, despite the larger size, the Nexstand will effectively fit the same range of laptop sizes asa the Roost – According to their respective specs pages, the Nexstand will fit laptops up to 2cm thick (but requires that you use separate, small, losable spacers for thinner laptops), whereas the Roost will fit laptops up to 1.9cm thick (no spacers required).
Price
You might say, "saving $50 is a pro", but in this case, I would disagree: that $50 isn't going to seem like much of a savings when your laptop is pushed or yanked and the "not-really-rubber" grips of the Nexstand let out, pulling your laptop off its precariously high perch and down into the land of broken screens.
Proliferation
Because of it's cheaper price, and off-brand knock-off nature, the Nexstand has garnered a foothold in South-East Asia.
Indeed, it's the only one of the two that's on AliExpress or Lazada, and the Roost's official site doesn't even ship to the countries where Lazada operates (Indonesia, Malaysia, Philippines, Singapore, Thailand, and Vietnam).
I suppose the fact that (if you're in South-East Asia) "at least you can get it easily" is the one possible "pro" of the Nexstand over the Roost.
Preclusion
That being said, we are travelers after all, and so if your current location precludes you from getting the more reliable of the two, then if you're willing to be extra careful with the Nextand (and neither you nor your associates are butterfingers), you may want to get one to tide you over.
The Point
Having a laptop stand has helped my productivity tremendously. The ergonomics of being able to sit up straight, rather than hunching over a laptop, mean I have more energy, can get more done, focus more on my work than on physical discomfort or fatigue, and work for longer periods at a time without over-taxing my body. That also means I can stretch for general flexibility, rather than to fix the stress of non-stop slouching.
Despite it's ingenious design and many benefits, few people have discovered the concept of a light-weight, portable, traveling laptop stand, but they are becoming more and more prevalent and popular around cafe's and coworking places. It looks like such an intriguing piece of kit when fully-assembled (which is done with just one motion), yet folds down smaller than most folding umbrellas.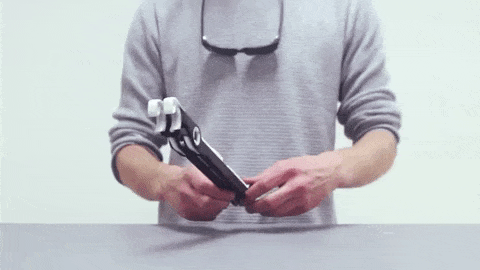 The benefit of having a laptop stand – any laptop stand – is such that even if you can't get the Roost, settling for a Nexstand can be worth it as a temporary fill-in. Just be careful not to leave it near the edge of anything! (Or near cats.)
The Roost has become an essential part of my travel kit, and the fact that I'm always using it when I work makes it a great conversation starter.
Next time you're in one of the countries where you can get the Roost (make sure to check your country's Amazon, and other popular online shopping sites), make sure to pick one up. It's obvious and major quality differences make it a much better buy than the Nexstand K2, even at around twice the price.
If that's not going to be for some time, then go ahead and grab the Nexstand, pick yourself up a keyboard and mouse/trackpad to go with it, and at least give it a try. At around $30, "the first one is (nearly) free", and you'll be hooked from the start.
Procure!
When you're ready to get yourself a portable laptop stand for your travels, you'll likely have to rely on the internet.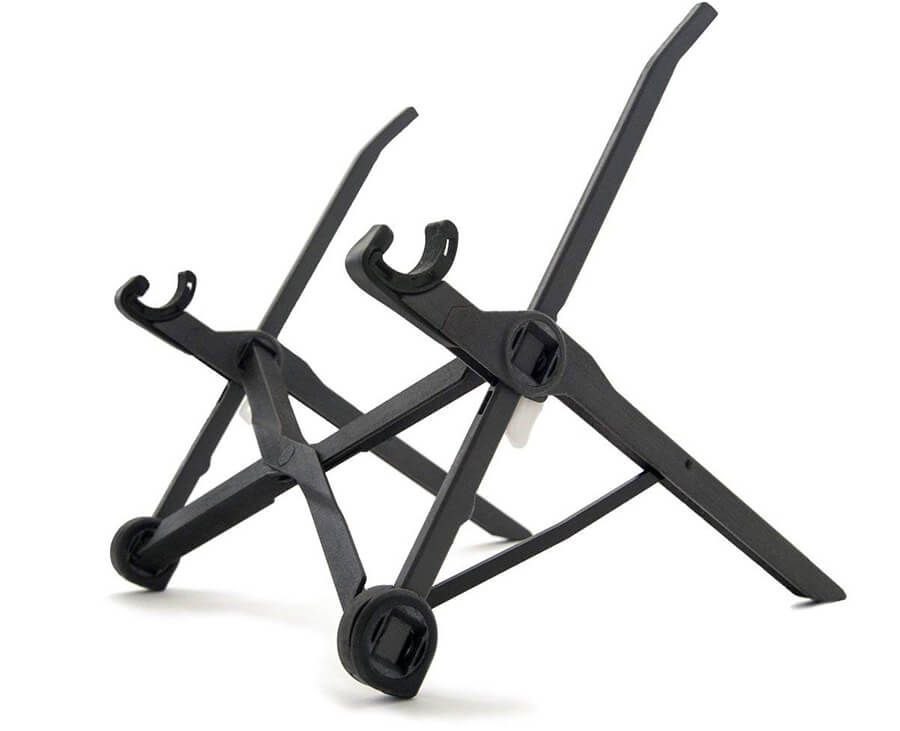 If you're not in South-East Asia, go for the Roost. It's available on Amazon (hopefully in your country) – and if not, then try your local Amazon equivalent, or check the Roost's official site for international shipping options.
If you aren't sold on the concept and want to try a cheap version, are willing to bet that your laptop isn't going to be pushed or pulled any time soon, or if you're in South-East Asia, go for the Nexstand K2. It's available on Amazon, Lazada, AliExpress, and in the inner trench coat pockets of knock-off peddlers near you (or perhaps your preferred local shopping site).
Happy roosting!
What travel stand do you use?
Is your laptop perched on a roost, nexstanding (?) on a Nexstand, or something else? Do you prefer traveling with something more like this, or using no laptop stand at all?