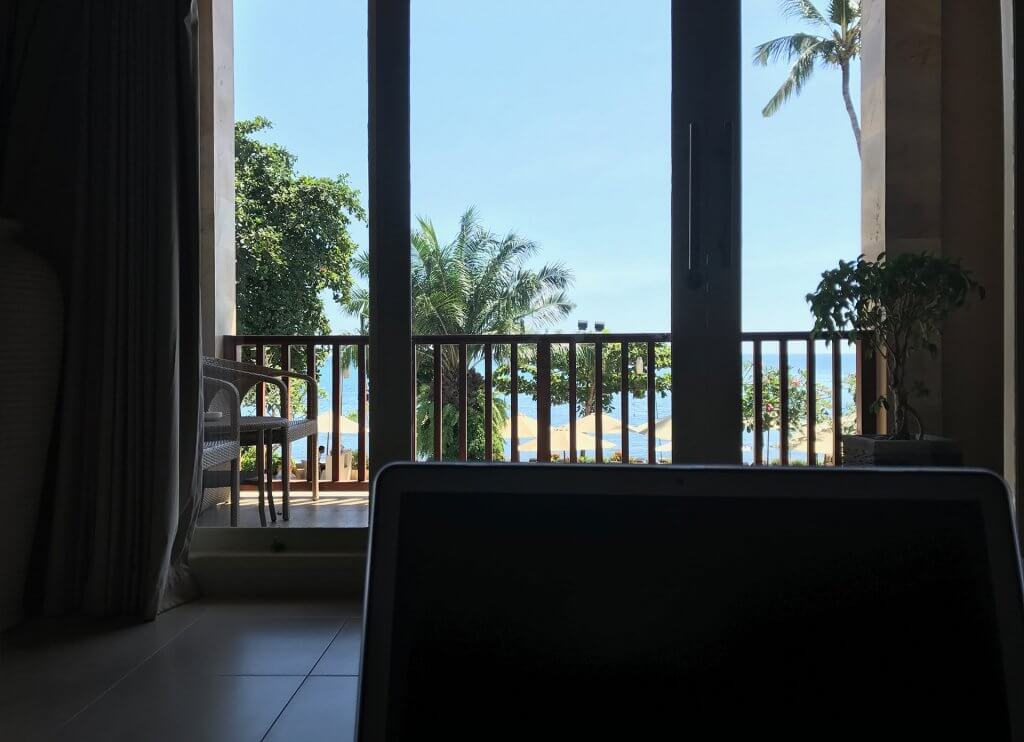 They've almost become the symbol for "I'm a digital nomad" – rather than posting pictures of the places themselves, or their activities, the "proof" that someone is "nomadding" somewhere – almost like a right of passage – is a picture of a laptop (presumably a nice one) in some exotic place (and usually a nice one).
But to me, there is an insidious implication in these kinds of pictures…
…The inability to separate work from life.
…And the constant need to be working from these (otherwise) beautiful places.
In other words, the reason the laptop is in the picture, is because it has to be. They have to be working by the pool. They have to be working in the restaurant. They have to always be tethered to their computer…
…And so the lines are blurred, and their minds, their lives, are never spent fully in one activity or the other.
I am not going to pretend I am immune to this phenomenon. My traveling office article has not one, but two pictures of my Macbook – but in a cafe & coworking space.
And, I too used to take these types of pictures of my laptop in places.
Here are two of such pictures, taken two days apart, in Bali, in 2017:
Like What You See?
We send exclusive tips & resources, daily, by email, for free, on how to create the freedom to travel full-time, and optimize the quality of your travels.

Does it seem kind of sad to you?

It seems kind of sad to me.
It was kind of sad at the time.
But why?
It's not the fact that I was eating alone – there is absolutely nothing wrong with enjoying time with yourself, taking yourself out to eat, and so forth.
No.. It's that something is wrong with the pictures..
The laptop is ruining them.
Because with that laptop in the picture, the picture becomes one of forced compromise, rather than elective enjoyment.
Because in those pictures, I am not just there with myself, enjoying my own company, and the nice scenery.
My work was there too. Ever looming, requiring my attention.
This wasn't a function of the work, though; it was a function of me, and the way I approached it – which was, without separation from the rest of my life.
What I see in those pictures – what I see of myself in those days – is exactly what I see when I look at other peoples' photos of their laptops in nice places.
It's not a flex, it's not a brag, it's a glaring admission of a work life imbalance that they are temporary sweeping under the rug of novelty with the brush of excitement.​
You can bring it right down to a very literal, basic level to understand this: whereas other pictures of the same environment would focus on the environment or what's going on in it to some degree or another, the actual, literal focus of these pictures is on the laptops – on the work – and they would be an entirely different type of picture without them.​
And, actually, those pictures from the traveling office article demonstrate a much ​healthier, holistic balance between the necessities of work for affording travel's sake, and the travel and enjoyment of it for your sake – to separate out work and play.
These days, I make it very simple, and I do so physically.​
​​In those days, I used to work from home – I had actually two villas in Bali (one up the hill from the other, don't ask why), and "built" offices in both (e.g. desks, whiteboards, etc.)​​​, but I found even that wasn't enough of a physical separation.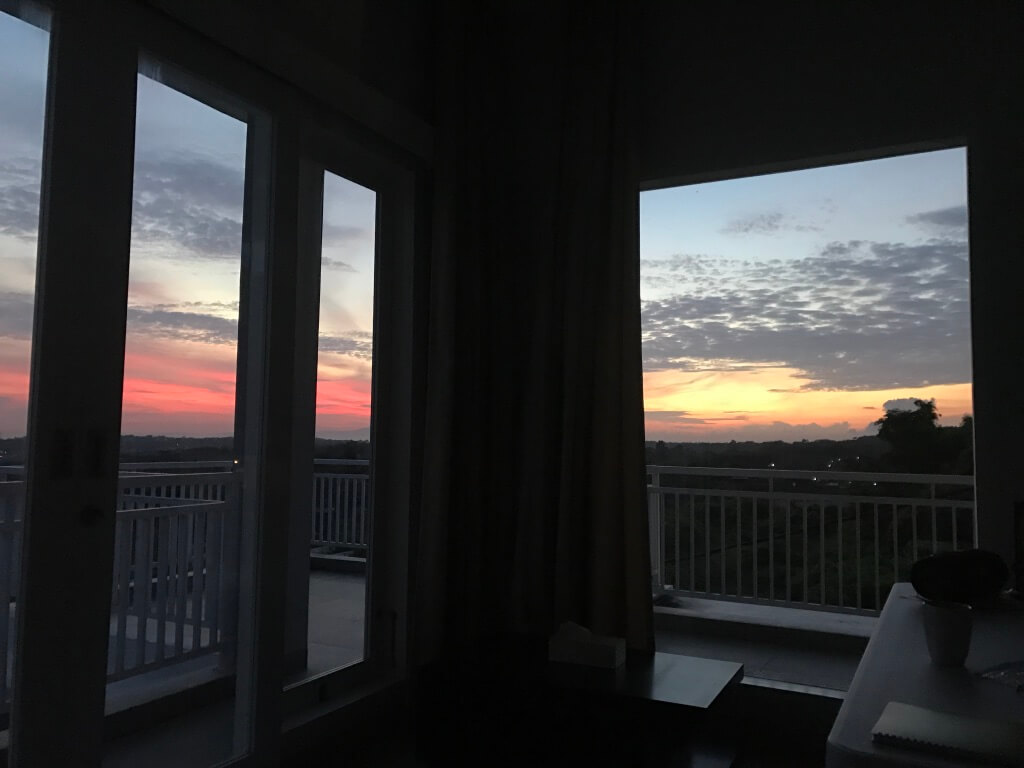 Cafe's were a step up from there – and for bonus points, here's a picture of that same laptop from my favorite Starbucks in Bali at the time: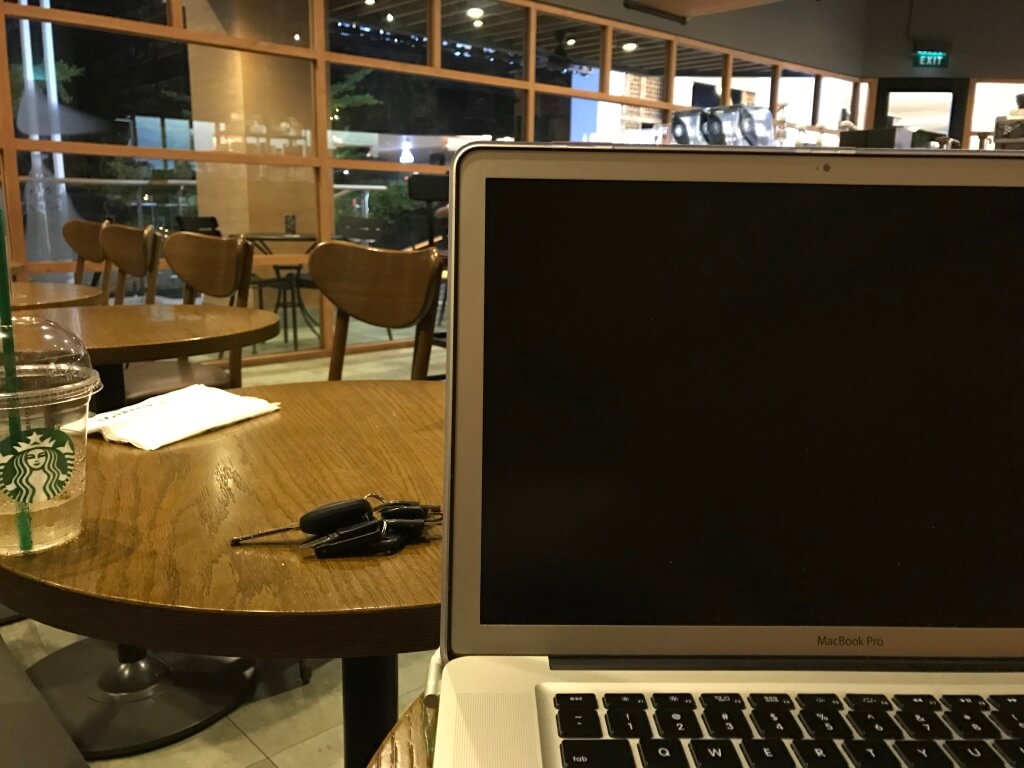 But what really made the difference, was the switch to coworking spaces.
For some people, this triggers their "9 to 5 trauma" that the whole travel thing was meant to try to escape.
​​I never had a 9 to 5 (I only ever held one part time retail job, and getting fired despite being the top performer in sales while being the only part time employee was enough to make me realize the futility, instability, and ultimately, the personal irresponsibility of depending on a single employer for income), but I present it to you that this is something like the old Zen proverb:
Before you study Zen,
mountains are mountains and rivers are rivers;
while you are studying Zen,
mountains are no longer mountains and rivers are no longer rivers;
but once you have had enlightenment,
mountains are once again mountains and rivers again rivers.
Zen Proverb (translation by Fritjof Capra)
It may look like some mutation of an office (if your coworking space looks like a cubicle – get another one – there are plenty of options and they offer plenty of benefits)​, but whether you are coming to it fresh (like me), or coming back to it (like a former cubicle mule), you are doing so under different terms – your terms – and specifically, the terms that make them so valuable in improving the quality of your life while traveling:
Making your work place your work place, so you can make your home place your home place, and the rest of the world, your play place.
By making these distinctions (and let's not get into semantics and say you aren't going to play at work or especially at home – you know what I mean)​ – and although it's not the only step – it sets an excellent foundation for the rest of the steps to naturally (and some with a bit of prodding)​​ fall into place, and is an easy, simple place and way to start.
Since switching to this compartmentalization approach, not only have I not been tempted to take pictures of my laptop in beautiful places where, if nothing else, it's just impractical and unproductive to work because of endless distractions, heat, brightness, etc., but also, I have had no opportunity to do so, because I do my work in places that are conducive to work, and when I'm not there, I can focus on enjoying those very things that would otherwise be distractions.​